WA Records 13 New C0V 19 Cases Including Mystery Infection in South West Region
By Rhiannon Shine and Gian De Poloni
– One of the 13 new cases was infectious in the Bunbury region.
– The other cases are all linked to known COVID-19 clusters in Perth.
– Proof of vaccination will no longer be required at City of Perth's Australia Day events.
Western Australia has recorded 13 new local cases of COVID-19 amid a surge in infections, including one mystery case in the state's South West.
That case, reported in the Greater Bunbury region, is believed to have been infectious in the community.
Of the other new cases, 10 have been linked to a Coolbellup cluster in Perth's south, including eight household contacts and two close contacts.
One other local case was a household contact from a Safety Bay cluster, and the remaining case attended the Willagee IGA exposure site.
The infection source of the South West case remains under investigation and contact tracers are working to identify potential exposure sites.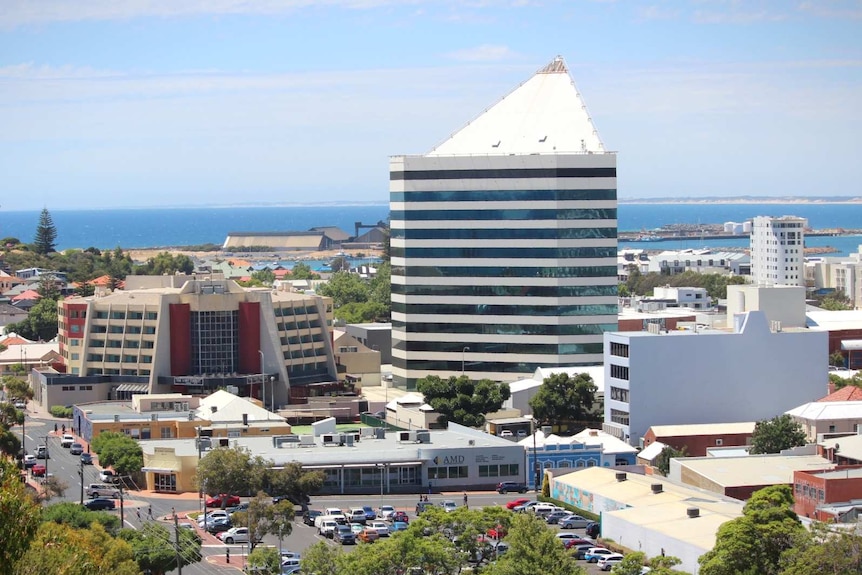 The case in the Greater Bunbury region is thought to have been infectious in the community.
A restaurant in Bunbury, a sports bar in Mandurah and a daycare centre in Thornlie were announced as exposure sites today.
Authorities said all cases were in self-quarantine.
Fears people not getting tested
Almost 5,000 Western Australians were tested at clinics yesterday, something Police Minister Paul Papalia said was not high enough.
"We would urge anybody, if you are feeling unwell regardless of where you have been, get tested," he said.
"That is something for people in the South West to think about now too.
"The only way you get to gauge how much of the virus is out there is for people to get tested."
Australia Day vaccination backflip
Meanwhile, the City of Perth has backed down on its declaration that all attendees at Perth's Australia Day fireworks display will need to be double vaccinated.
Perth Lord Mayor Basil Zempilas announced last week only people who could provide proof of being fully vaccinated against COVID-19 would be welcome to watch the Wednesday night fireworks display from the banks of the Swan River.
The council said that was based on the health advice provided to them at the time.
But the council this afternoon conceded unvaccinated people, or those who had only had just one vaccination, would not be stopped from attending.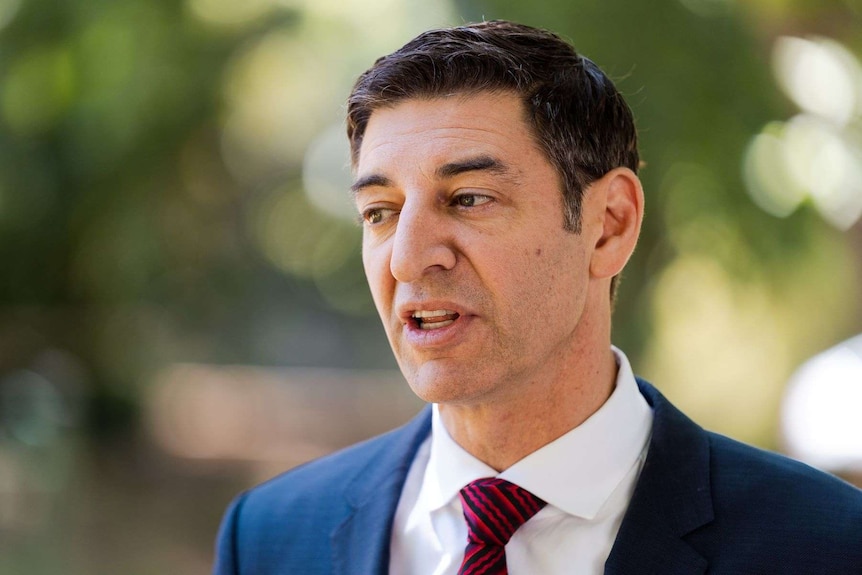 Basil Zempilas had initially said attendees who could not provide proof of vaccination would be asked to leave.
In a now-removed post on its website, the council warned special "COVID marshals" would carry out spot checks of people's proof of vaccination.
"While proof of vaccination will no longer be required, for the safety of everyone attending we encourage visitors to be double vaccinated, practice physical distancing where possible and use the hand sanitiser provided," the website now reads.
In a statement to the ABC, the council said the decision to remove the proof of vaccination requirement was based on updated advice from WA Health.
"The situation with COVID is constantly evolving and changing," the statement read.
Mr Zempilas said he hoped 200,000 people would attend.
Mr Papalia said the outdoor mask mandate would be enforced by police at indoor and outdoor Australia Day events.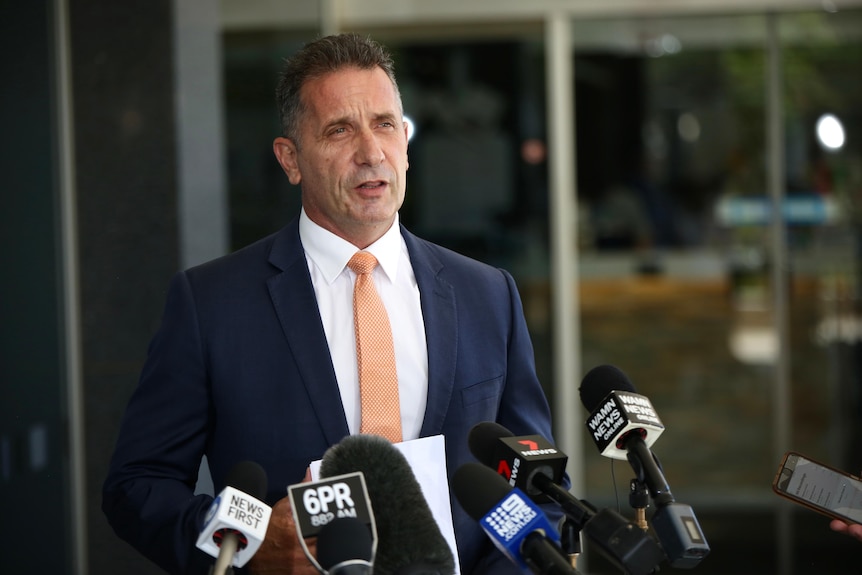 Paul Papalia says the Skyworks will go ahead but has urged people to follow mask rules.
He said people who did not have a mask would be given one by WA Police.
"The aim is to give you a mask rather than a fine," he said.
"But the knucklehead rule will be enforced — if you act like a knucklehead you will be treated like one. So please do not do that."
More restrictions needed: AMA
The new cases came as the WA branch of the Australian Medical Association (AMA) again called on the state government to strengthen restrictions in order to get ahead of the Omicron outbreak.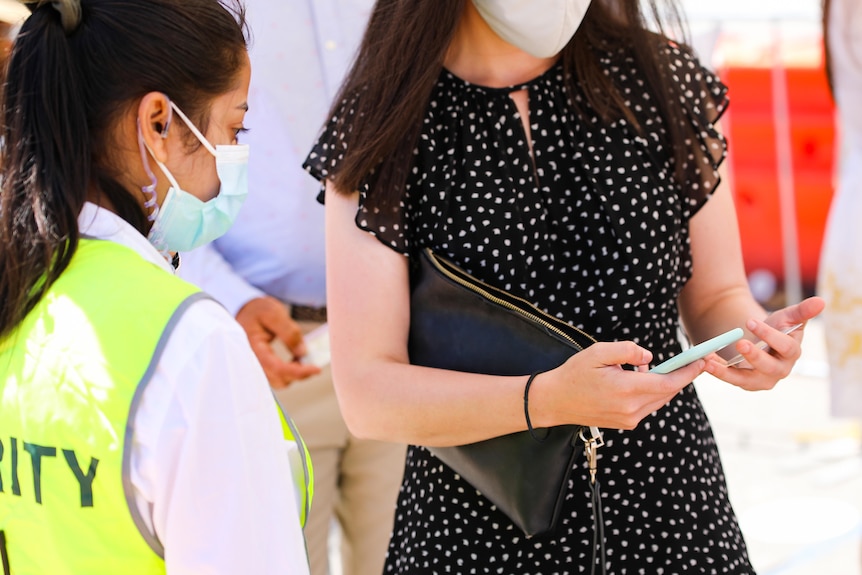 WA's proof-of-vaccination rules are due to be expanded at the end of the month.
An indoor mask mandate in place in Perth, Peel and the South West regions of WA remains the only restriction currently being enforced, aside from vaccine mandates.
"Modest restrictions now may reduce the need for harsher restrictions later by flattening the curve and pushing the peak further away," AMA WA president Mark Duncan-Smith said.
"Modest restrictions now may avoid the need for lockdown in the future, which should only be indicated if it is imminent and obvious that our medical system is about to be overrun.
"Early action is better than late reaction.
"Omicron is out there even as we speak. We do not have adequate suppression measures in place currently."
Premier Mark McGowan last week rejected the AMA WA's suggestion stricter restrictions were needed and said going too hard too early could cause restriction fatigue.
Regional hospital morale 'terrible'
When announcing WA's border would remain indefinitely, Mr McGowan and Health Minister Amber-Jade Sanderson maintained the state's health system was "strong and ready".
But Dr Duncan-Smith said that was not an accurate description.
It's feared hospitals in regional WA are not equipped to handle COVID-19 patients
He said while an inner-city intensive care unit may be well stocked and well equipped, many country hospitals were not.
"I have certainly been in touch with numerous country hospital emergency departments where they have raised significant concerns about their ability to separate COVID-positive from COVID-negative [patients]," he said.
"There has been conversations about problems with staffing and lack of supplies."
One senior WA country health clinician, who spoke to the ABC on condition of anonymity, described morale in their emergency department as "terrible".
"I don't know where we are going to put an influx of [COVID-19] patients," they said.
"Many country hospitals are desperately short-staffed.
The clinician said they did not believe delaying the border reopening would significantly improve the situation.
"We are struggling with a legacy of years of under recruitment and under investment, and a few months extra time is not going to help," they said.
"It [COVID-19] is out in the community anyway and it is going to keep spreading.
"Space constraints in our EDs and hospitals will mean that we are going to struggle badly to separate COVID patients from non-COVID patients."
Hospitals as ready as possible: McGowan
Over the weekend, a major breach at Fiona Stanley Hospital forced five families and a number of staff into self-quarantine.
Amid last week's border announcement, Mr McGowan said hospitals were "as ready as they can be" and significant investments had been made in the health system.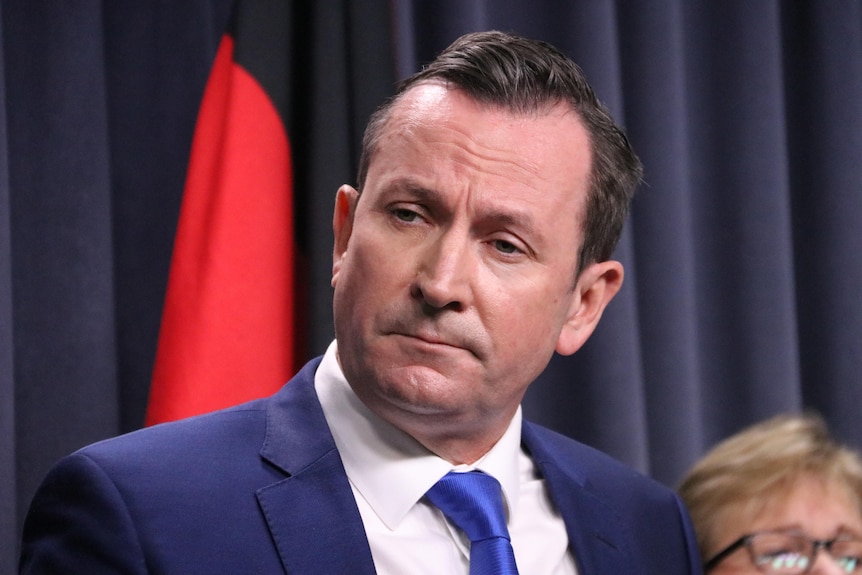 WA Premier Mark McGowan has defended the readiness of the health system.
"Last year, we announced $3.2 billion of additional spend on beds, doctors, nurses and the like," he said.
"But the hospital issues are also to do with staffing issues.
"A lot of our recruitment is actually overseas, and that has been difficult because countries around the world are doing the same thing."
He said 300 hospital beds had been added to the system, with another 220 still to be rolled out.
Meanwhile, the state's Vaccine Commander Chris Dawson has been replaced in the role by Deputy Police Commissioner Gary Dreisberg.
Mr Dawson has been in the role since August last year and will resume his role as WA Police Commissioner and State Emergency Coordinator.